Tria Laser Hair Removal by Tria Beauty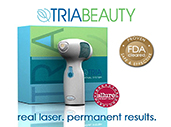 Client: Tria Beauty
Product: Tria Laser Hair Removal
Price Point: $500
Objectives: To introduce the Tria Laser Hair Removal System to the market, to work as an independent profit center and to drive retail sales
---
In 2010, Tria Beauty enlisted Script to Screen and M2 to produce and manage an infomercial campaign to introduce their Laser Hair Removal System to the marketplace.
The goals were to develop an independent profit center, provide an educational platform to create sell-in and pull-through demand within retailers such as Bloomingdales, Nordstroms, Neiman Marcus and QVC.
The result, according to CEO Kevin Appelbaum, "The Tria infomercial is the most successful marketing and advertising tool in the company's history."
---
Independent profit center
Most successful advertising tool in company history
No. 15 on the IMS Top 100
Contact us about your project.
800-453-0003